Last week was a stressful flashback to August/September for us here at The Sevens Report, not just because stocks took a tumble and threatened to break support, but also because that market sell off caused our phones to light up, as subscribers were calling and asking whether or not this was the start of another market collapse. 
I imagine that if you are like a lot of our paying subscribers to The Sevens Report (the vast majority of whom are FAs at wire house firms and RIAs), you felt a similar way.  Even if you're just a regular investor, you still probably felt an uptick in anxiety last week.
Thankfully, though, we also got the most feedback from subscribers since September, and the message has been very consistent:  Our daily macro report is helping them to "See the Forest for the Trees," as multiple subscribers said.
Specifically, two weeks ago, in the face of overwhelming bullish sentiment, we voiced caution on the S&P 500 when it was trading above 2100 and suggested that more agile advisors get "defensive" in their tactical allocations.  We voiced that opinion because:
Buying momentum from the September lows was exhausted
The S&P 500 is expensive from a valuation standpoint and,
A December Fed rate hike was more certain and not fully priced into stocks. 
Bottom line, that analysis not only helped our subscribers avoid the 100 point sell off in the S&P 500, but also helped calm nervous clients when the market was down big which undoubtedly solidified client-advisor relationships.
And, despite the bounce so far this week, we think the outlook for stocks remains cloudy:
Good economic data will result in a further rise in interest rates, which will likely weigh short term on stocks, while
Soft data and a dovish Fed only exacerbates the valuation issue.
So, unfortunately we don't think the rest of 2015 is going to be easy, and there are risks to the downside that need to be monitored.
Our job, each and every day, is to cut through the analyst and media "noise" and keep our subscribers focused on the fundamentals that will determine the next direction for stocks and identify opportunities across other asset classes:  Stocks, Bonds, Currencies, and Commodities.  
We provide that analysis to paid subscribers via our daily report every day at 7 AM.
Staying focused on fundamentals and cutting through the noise is what helped us correctly identify that the market was "stuck" around 2100 for the past 7 months, and it's what has now led us to the conclusion that until we get some sort of material, positive catalyst, risks for the market remain to the downside. 
We think getting this next turn in the market "right' could be the key to outperforming for the remainder of 2015 and early 2016, so we've included an excerpt from Monday's Report regarding the near term direction of stocks.
Is the Pullback Over? (No, We Don't Think So). 
Yesterday was an impressive rally as stocks recouped all of Friday's losses, but the "reason" for the rally was mostly covering and an oversold bounce, and we think it's a bit premature to say the recent pullback is finished.  
We say that for two reasons:
1. The most beat up sector from last week, energy (XLE), bounced 3.3% Monday, which is a tell-tale sign of short covering.
2. No cyclical index or sector materially outperformed (the Russell 2000 and NASDAQ both lagged the Dow Industrials, which isn't what happens in a strong rally).
Stocks were very short-term oversold at the end of last week, and Europe's resilience in the face of the Paris terrorist attacks was the spark that caused the oversold bounce.
And, that was helped by the fact that S&P 500 futures held the 50-day moving average overnight Sunday (2,001), and that oil rebounded yesterday (which added more fuel to the rally).
Despite this bounce, though, the outlook for stocks remains cloudy:
Marco risks have been largely mitigated (China is stable for now, and a Fed rate hike is expected), but that said, 2,100 in the S&P 500 remains a general cap because of valuation.
At $125 2016 S&P 500 EPS, this market is not cheap (just under 17X earning now), so one of two things needs to happen for stocks to mount a serious rally:
1. Earnings need to be better and the outlook for 2016 EPS needs to increase.
2. The US/global economic outlook needs to continue to improve and get better, making a higher multiple (17.5X or 18X) more legitimate.
Until one of those two things happens, we think 2,100 will remain a "cap" on stocks.
Additionally, there is obviously the added uncertainty of terrorism and increased clashes with ISIS.
On Monday morning at 7 AM our paid subscribers had our analysis on the Paris terrorist attacks and they were able to share that with their more sophisticated clients.  We've included it as a courtesy below:
"Looking beyond the human aspect of this (which is difficult given the vicious nature of these attacks and the terrible losses suffered by many), this will likely not be a major influence on stocks (European or US).
There are two templates to consider:  The Madrid train bombings and the London Tube Attack of '04/'05 respectively.  Both events caused near term volatility in stocks but neither event resulted in protracted losses in stocks or a slowdown in the broader economy. 
To that point, European indices have already recouped early losses and are flat to slightly higher on the day, because, if anything, this only encourages more QE from the ECB to offset any potential economic shock.  We would view any material weakness in European stocks as a medium/longer term buying opportunity for our preferred Europe ETF."
Subscribers know that whether it's a geo-political or economic event, they will have the plain English, direct analysis they need to stay on top of markets and impress clients and prospects. 
Click here to start your quarterly subscription and ensure you have the timely market intelligence you need to navigate this volatile environment.
Three Charts That Still Make Us Cautious (Sevens Report Excerpt)
Despite the rebound in the broad averages, our leading indicators (which again predicted the most recent pullback) are not bouncing materially, reinforcing our opinion that this is just an oversold bounce in stocks.
Leading Indicator #1:  A Real Time Barometer on China and Global Economic Growth Fears
This leading indicator is a specific commodity ETF that has large exposure to specific industrial commodities – which are a proxy for:
1) Global growth and
2) Emerging market sentiment.
It has been a strong leading indicator for China/Global growth in 2015 as it broke a four month uptrend in early July, right before the rest of the market got dragged down by "China and global growth" worries.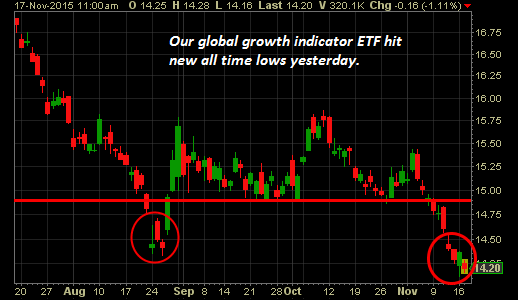 Unfortunately this chart hit a new, all-time low yesterday, which is obviously a negative technical signal and does not confirm the rally in stocks. 
Leading Indicator #2:  A Real Time Measure of Financial Stress in the US
This junk bond indicator bounced yesterday along with the market, but it's close to resistance, and with a rate hike in December but still not fully priced into the market, this corner of the bond market remains fragile and a source of risk for stocks.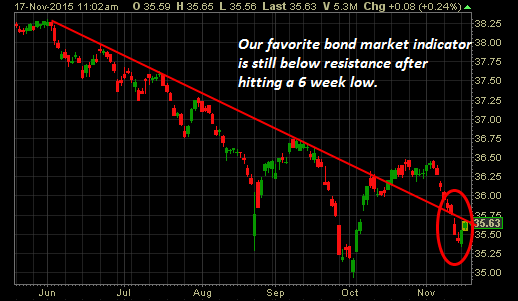 Again, with oil plunging to fresh, 6 ½ year lows below $40/bbl. in late August, concerns continued to rise that we will start to see stress in the junk bond markets, as a lot of risky "junk" loans have been extended to small oil companies over the past several years and bought up by bond funds who were starving for higher yield, and the health of those loans was beginning to come into question.
The potential exists for a stampede out of overvalued junk bonds that could grow into a bigger bond crisis here in the US, given the still over owned nature of bonds.
The last time this leading indicator was this low was October 5th, and the S&P 500 closed that day at 1987, nearly 5% lower from current levels. 
Leading Indicator #3:  Market Breadth Is Still Negative
While stocks have rallied close to all-time highs over the past month, measures of market breadth including advancers/decliners remains well below the May peak.
And when we put on a cumulative chart to smooth the data, it looks like the trend of advancers/decliners rolled over and so far the bounce is feeble (we are using NYSE advance/decline, which is the standard benchmark).
This anecdotally confirms one of the fundamental reasons were are cautious on stocks  – that the rally has been mostly due to positioning and concentrated on a few large cap stocks, not the broad buying that is the hall mark of a sustainable rally in stocks.
Our "Pure Play" Hedge
Because of these factors and our concern that the rest of 2015 (just 6 trading weeks) will be volatile, in Monday's paid edition of The Sevens Report we have again identified an ETF that successfully protected portfolios during the August and September declines. 
During the August declines, this ETF rose 15%, protecting portfolios from the volatility.
During the late September drop in stocks, this ETF rose 6.0% compared to a -4.0% decline in the S&P 500.
And, last week, this ETF rose 5.12% vs. a -3.63% decline for the S&P 500 and remains an attractive way to protect portfolios against a higher rate/slower global growth market inspired decline in stocks. 
Our paid subscribers know that we will tell them when those indicators in commodities and bonds go from flashing a "warning" sign to flashing a "crisis" sign and that we will give them specific ETFs that can protect portfolios should things get worse.
Given continued market volatility I am extending a limited time, special offer to new subscribers of our full, daily report that we call our "2 week grace period."
If you subscribe to The 7:00's Report today, and after the first two weeks you are not completely satisfied, we will refund your first quarterly payment, in full, no questions asked.
Click here to subscribe and get our two leading indicator ETFs and hedge ETF.
Make More Money, Save Time, Have More Knowledge
Our job is to provide you the timely, need-to-know, critical information that will demonstrate to your clients:
1) That you are on top of the markets, and
2) That you are in control of their financial situation.
Actual subscribers to The 7:00's Report have told me that discussing the information contained in the Report with prospective clients has helped them land accounts as big as 25 Million Dollars!
The rest of 2015 is going to continue to be a volatile year. Subscribe today and give yourself the market intelligence you need to help strengthen relationships with your current clients, and acquire new ones.
Subscriptions start at just $65 per month, billed quarterly, and with the option to cancel any time prior to the beginning of the next quarter, so there's simply no reason why you shouldn't subscribe to The 7:00's Report right now.
If you want to make your business more successful, you have to possess unshakeable confidence in your knowledge, and helping you acquire that knowledge is what The 7:00's Report is all about. Begin your subscription to The 7:00's Report right now by simply clicking the button below:
Finally, everything in business is a trade-off between capital and returns.
So, if you commit to an annual subscription, you get one month free, a savings of $65 dollars.  To sign up for an annual subscription, simply click here.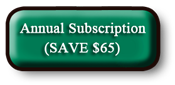 Best,
Tom
Tom Essaye,
Editor of The 7:00's Report