It feels like yesterday, when John, my former boss, gave me advice when I started as a portfolio manager:
"Most clients can forgive a negative year when the markets are down big, but most clients won't forgive missing the chance to lock in a positive year following a big decline."

I took it to heart.  John had cut his teeth in the business as a stock broker in the 70's and had successfully weathered many a volatile market.  More importantly, he understood people and how they thought about money.

His advice is especially pertinent right now because of what's happened in the markets recently:
Two months ago

the S&P 500 was down nearly 10%

and there was legitimate concern it could get worse.
Now, the S&P 500 is up a little over 1%, and it seems like money managers are much more worried about missing a year-end rally than they are locking in gains and ensuring a modestly positive year.
With the first Fed rate hike in nearly ten years very much on the table for December, the fact is that we are all sailing into unknown waters, and even experienced money managers I talk to are feeling confused and wondering "What Do I Do Now?"

With just 7 weeks left in the year, it's critical that you have the timely, direct analysis you need to successfully navigate the markets for the rest of 2015 and beyond. 

I created this report because I know that most financial advisors and professionals are not glued to blinking screens from 9:00 – 4:00 each day. 

They are discussing the goals of their clients and mapping a financial course to reach those goals.  Most of their time is spent building and fostering relationships, not analyzing Fed commentary, studying the yield curve, or digging through an oil inventory report.

The most successful advisors use tools like The Sevens Report to stay ahead of the markets (stocks, bonds, currencies and commodities) and to make sure their clients are positioned to both outperform while also being protected from any financial "storm" that may blow up.

Specifically, we take complex macro-economic concepts (like jobs reports, Chinese economic policies, the implication of rising interest rates, GDP reports, FOMC Statements, etc.) and tell you:

1) What you need to know

2) What will move markets, and

3) What will make those events positive or negative for stocks and other asset classes. 

Every morning at 7AM we deliver this information, so you can show your clients you are on top of the markets with a plan to outperform, regardless of the environment.

The Fed put a December rate hike back on the table last week, so tomorrow's jobs report really is the most important jobs report of this year.

And, it has the potential to cause some significant volatility in stocks, as the bond and currency markets are starting to price in a Fed hike, while the stock market, for now, seems to be largely ignoring that possibility. 

Understanding how tomorrow's jobs report could affect stocks is critical, given it's so late in the year, and as a courtesy I've included an excerpt from today's edition of The Sevens Report that includes our standard "Jobs Report Preview."
 

Jobs Report Preview (Sevens Report Excerpt)

This jobs report is now much, much more important than it was a week ago, given December is a "live" meeting.

Again the risk for stocks is for a "Too Hot" number near term, as we saw yesterday the realization of a Fed rate hike is starting to cause some volatility in stock prices. While we maintain longer term a healthy economy and rising rates is the path to significantly higher stock prices, it's naïve to think that won't elicit some near-term volatility. If the number is "Too Hot," expect the dollar to rally while bonds, stocks and commodities will drop (bond and commodities likely sharply). 


"Too Hot" Scenario (What it Takes to Hike in December)

· > 225k Job Adds. The bar for a December hike isn't particularly high given recent Fed comments, so anything above 225k could easily validate a hike.

· < 5.0% Unemployment Rate, ≤ 10.0% U-6 Unemployment Rate. In the March statement the Fed lowered "NAIRU" to 5.0% and below, but even at the current 5.1%, a December rate hike could easily be justified by Fed leadership. 

· > 2.3% yoy wage increase. Wage inflation continued to be relatively subdued over a multi-month time frame, but recent Fed commentary implies they are looking past low inflation, so any increase in wage inflation will give Fed leadership an excuse to hike rates. 


"Just Right" Scenario (December Probability 50/50)

· 150k—190k Job Adds, 5.0%-5.3% Unemployment Rate, 2.1% – 2.3% YOY wage increase. With various employment metrics falling into this range, the doves on the FOMC may have enough fodder to delay a hike till March, and as a result we likely won't see markets react too hawkishly (this will be the best outcome for stocks for this meeting). 


"Too Cold" Scenario (No Hike in 2015)

    < 150k Job Adds, ≤ 2.1% yoy wage increase. This will not be a good number because it'll imply the US economy may be losing momentum, and it will reduce the chances of a December hike, both of which will be decidedly negative for stocks beyond the immediate, Pavlovian "dovish" market rally—which we would fade if it materializes. 
 

Are You Prepared for Year End Volatility?

The hawkish drum beat got louder Wednesday:
All three members of Fed "Leadership" (Yellen, Dudley and Fischer)

reiterated that December was a "live" meeting for a rate hike.
September ISM Non-Manufacturing PMI

spiked above 60, handily beating expectations, and the employment sub-component hit the highest level in nearly 20 years (since 1997).
The two year Treasury yield hit a 4-year high at 0.84%, and that yield is very sensitive to rate hike expectations – implying

the bond market is starting to believe the Fed

is serious about a rate hike.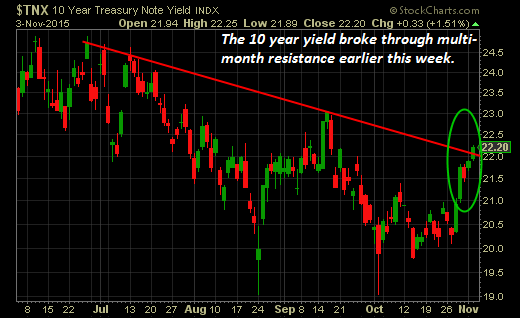 But, the Fed has a credibility problem, because it has "Cried Wolf" on a rate hike too often this year, so the stock market is still largely ignoring the gathering "hawkish" storm. 

The last time something similar happened was the "Taper Tantrum" of mid-2013, and when the stock market was surprised by the Fed hinting at ending QE, the S&P 500 promptly dropped 7.5% in one month!

I'm not saying we're going to see a repeat of that, but even a modest dip would take the S&P 500 negative for the year, and that's especially important right now given the calendar.

If tomorrow's jobs report is "Too Hot" and the stock market reacts to a Fed rate hike, there will not be a lot of time for market to recover by year end – and the last thing you want to do is explain to a client that you were positive in November going into a rate hike, but finished down for the year!

When the Fed was "hawkish" at its meeting last Wednesday, we reiterated to paid subscribers in Thursday's Report five ETFs that would outperform given the Fed's surprising "hawkishness." 

Since Thursday morning, those 5 ETFs are up an average of 1.5% in 5 trading days and more importantly if tomorrow's Jobs Report is "Too Hot" they will protect portfolios in the event stocks drop into year end.   

During this 4th quarter, if you're market analysis is delayed or not comprehensible (meaning it's coming from the firms' PhD economist) you may miss the chance to protect client portfolios or seize opportunities.

We are committed to making sure our subscribers have the information they need, each trading day, to successfully navigate the rest of 2015.  That starts tomorrow with the jobs report. 

We believe that even in this difficult environment advisors shouldn't have to sacrifice time with clients and prospects just to stay up on the markets.  Especially during this 4th quarter, we will make sure our subscribers have the information they need to stay up on the markets, so they have more time to continue to build their business. 

We adamantly believe we offer the best value in the paid research market, and we have over a 90% retention rate to prove it.  Let us help you this 4th quarter.  

Given the market volatility I am extending a limited time, special offer to new subscribers of our full, daily report that we call our "2 week grace period." If you subscribe to The 7:00's Report today, and after the first two weeks you are not completely satisfied, we will refund your first quarterly payment, in full, no questions asked.

Click here to start your quarterly subscription. 


Value Add Research That Can Help You Grow Your Business

Our subscribers have told us how our focus on medium term, tactical opportunities and risks has helped them outperform for clients and grow their books of business. 

In three years of doing this the absolute best feedback I've ever received was when a client (an FA from a wire house firm based in Florida) called me late last year and said our Report helped him land a 25 Million dollar client!
 
But, while obviously not as monetarily impressive, we continue to get strong feedback that our report is: Providing value, Helping our clients outperform markets, and Helping them build their business: 
 
"Thanks for your continued insight; it has saved my clients over $2M USD this year… Keep up the great work!" – FA from a Bulge Bracket Firm.

"Let me know if there is anything else that you need from us. Thanks again for everything. I really enjoy the Report – it is helping me grow my business and stay on top of things." –  Independent RIA.

"Great service from a great company!!" – FA from a Bulge Bracket Firm.

"Great report. You've become invaluable to me, thanks for everything…!  –  FA from a Bulge Bracket Firm"

Subscriptions start at just $65 per month, billed quarterly, and with the option to cancel any time prior to the beginning of the next quarter, there's simply no reason why you shouldn't subscribe to The 7:00's Report right now.
 
Begin your subscription to The 7:00's Report right now by clicking this link and being redirected to our secure order form.
Finally, everything in business is a trade-off between capital and returns.
So, if you commit to an annual subscription, you get one month free, a savings of $65 dollars.  To sign up for an annual subscription, simply click here.
Best,
Tom
Tom Essaye,
Editor of The 7:00's Report