Last night after dinner I found myself in a familiar situation – telling my 3 year old son to step back from the TV, because he was watching it too closely and was missing the bigger picture.
This morning, when I was writing up the FOMC Minutes preview for our paid subscribers, I found myself trying to do the same thing: "Make sure you focus on the bigger picture."
And, staying focused on the bigger picture is harder than ever today given 24 hour news networks, growing compliance requirements, twitter, pop up news feeds, etc.
Looking specifically to our business, it's become more difficult because now every Fed utterance or obscure economic report is affecting the outlook on whether the Fed raises rates in December or not.
And, this has been going on for a few years now (it's just gotten worse lately).
That's why every day at The Sevens Report we make sure to cut through the noise for thousands of financial professionals, so they can save time and deliver more value to their clients. 
Last Wednesday there were no less than 6 Fed speakers making comments on the economy.  So far this week (it's only Wednesday) there have already been 5 Fed speakers, including two today (Lockhart and Dudley) and there is also the release of the minutes of the October Fed meeting.
That's simply too much communication for the market's own good. 
With the Fed inundating the markets seemingly every day with one speaker or another, the market is losing focus on the bigger picture of interest rates (that they are going to go up gradually) and instead the market is focused on the incremental "hawkish" or "dovish" comments.
That matters to you and your clients because it's causing more volatility in the stock market and it's making it harder for advisors like you to stay focused on a medium and longer term strategy that can help your clients outperform.
This communication overload is coming at an especially important time, because whether the Fed hikes rates in December will have a significant impact on client's portfolios for 2015. 
So, you need to understand the Fed to protect client portfolios.
We understand the Fed because we spend hours monitoring and analyzing:
Comments by Fed Governors
Research Papers from the Fed
Key Economic data the Fed uses to make policy decision
Key bond market signals that tell us what the market thinks of the Fed and,
FOMC Meetings and Official Releases like the FOMC Minutes
We take the time to study the Fed minutia so our subscribers don't have to, and we boil it down and tell them the one thing they need to know:  Did the events make a Fed rate hike more likely, or less likely.  That's how we help keep our paid subscribers focused on the bigger picture.
Our job in tough markets like this is to eliminate the information overload and deliver the unemotional fundamental and technical analysis that can help our paid subscribers reassure clients, protect portfolios and seize opportunities across asset classes:
Stocks
Bonds
Currencies
Commodities
And we are delivering this macro research each day at 7 AM because this is a quickly changing landscape and waiting a few days for a macro update from the firm's CIO or global strategy team simply isn't going to cut it.
We want all advisors and investors to be successful, so as a courtesy we've included three rules for following the Fed.  That excerpt and our latest market commentary is below:
Three Rules That Will Help You Get the Fed Right
Rule #1:  Just Focus on Leadership:  Between now and the December meeting (December 16th) you can ignore all speeches and comments by anyone other than Fed "leadership."  So, that means we need to pay attention when one of these three people are speaking:  Yellen, Dudley or Stanley Fischer.
All other Fed speakers can be generally ignored because they aren't in charge. Understanding the comments from Fed leadership correctly over the next month will be critical in getting the direction of interest rates and stocks right for the rest of 2015 and early 2016.
Rule #2:  Know What Data Matters to the Fed and Focus on It:  The only two pieces of economic data that we need to focus on between now and December are the November global composite PMIs and the November jobs report.  Other economic data matters from an economic growth standpoint, but not from a Fed standpoint.  Knowing whether those two reports are "Hawkish" or "Dovish" will be critical in getting the direction of interest rates and stocks right for the rest of 2015 and early 2016.
Rule #3:  Know the Indicators That Tell You the Market's Opinion Regarding a Fed Rate Hike.  We watch two key indicators that do a great job of disseminating all the various Fed speak and economic data points to give a singular reading on whether the market expects the Fed to hike rates, or not. These two indicators will tell us in real time when a rate hike in December is considered a certainty, and that will matter to stocks between now and year end.
Indicator #1:  A Fed sensitive bond yield:   This is a specific bond issue, although it's not a widely watched issue like the ten year or the thirty year.  This Treasury note is very sensitive to a hike in the Fed Funds rate, and its yield has risen to a multi-year high over the past few weeks.  But, it still has to go higher before a Fed rate hike is considered a certainty, which means interest rates broadly still need to move higher to reflect a rate hike occurring in December, and that's a risk to the stock market near term.
Indicator #2:  A Fed Futures Contract.  This indicator is a relatively obscure futures contract that reflects the probability of a rate hike.  Not a lot of advisors follow this metric, and it's not a fool proof indicator by itself (it needs to be combined with Indicator #1 to give a good picture), but it is useful in that it provides a probability of a hike.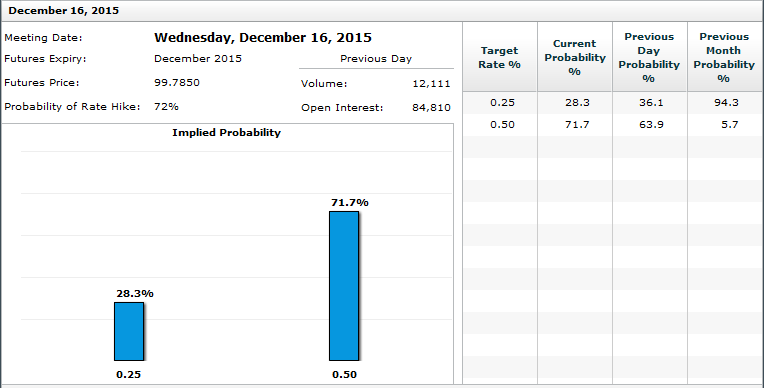 Right now, the probability of a rate hike in December is 72%, which again implies a rate hike is expected, but not certain.  So, interest rates will need to rise as a December rate hike becomes more certain. 
Going forward, we will continue to use those two indicators to cut through the noise regarding Fed speeches, and in last week's paid edition of the Report, not only did we tell our subscribers that the outlook for a rate hike didn't change (despite the media talking about "hawkish" and "dovish" speeches), but we gave them specific links to these two indicators to share with their clients.
Why This Matters to You:  Our subscribers trust us to tell them if and when shifting Fed expectations effect the markets, but more important than that, they also know we will give them talking points and indicators they can share them with their sophisticated clients who want to know their advisors are on top of the Fed.
And, by doing that, they can demonstrate their independence and market acumen, and increase assets and referrals.  That's how your competitors are using
The Sevens Report to grow their business during this volatile market.
Click this link to begin your quarterly subscription today with no long term commitment.
Stock Market Outlook:  Watch those FANGs
We've been consistent in saying that much of the rally from the October lows has been driven by underinvested managers trying to get "more long," as fears of missing a year-end rally trumped the desire to protect capital.
And, that's one of the reasons we became more cautious on stocks two weeks ago, because we felt like the tailwind of underinvested managers buying the market had largely exhausted itself. 
One of the ways we validated our theory is by watching various metrics of market breadth, and almost universally they have not confirmed the rally (we specifically discussed how the NYSE Advance/Decline line failed at a downtrend).
More specifically, we've been watching the so-called "FANG" stocks as proxies for portfolio manager positioning. FANG is an acronym for FB, AAPL, NFLX, and GOOG.
Those super-cap tech stocks have acted as a vehicle for underinvested managers to "slap on" long exposure.
So, we are now watching FANG as a quasi-leading indicator of the market, and we have those symbols grouped together on our quote screens.
The reason we point this out is simple:
If the FANG stocks roll over from here, we will take that as a cautionary signal on markets, because it will reflect that those weak-handed portfolio managers who chased the market higher are now starting to de-risk. Bottom line, breadth is not confirming this rally, and we will continue to watch the FANG stocks as a potential leading indicators.  
This has been a long, hard year in the markets, but we are committed to helping our subscribers finish 2015 strong.  And, we've done that so far:
A month ago we cautioned subscribers not to buy into the market above 2100 in the S&P 500 and to ignore the bullish hype.
Two weeks ago we said to get defensive, as the market was ahead of itself and our leading indicators were rolling over.
Now, despite a new round of bullish momentum, we remain cautious on stocks that think risks are to the downside, and we are focused on following the key indicators that can continue to help our subscribers get this market "right" for their clients and finish the year strong.
Click this link to start your quarterly subscription today and get the daily market analysis you need to impress prospects and outperform the market. 

Value Add Research That Can Help You Grow Your Business
Our subscribers have told us how our focus on medium term, tactical opportunities and risks has helped them outperform for clients and grow their books of business.
In three years of doing this the absolute best feedback I've ever received was when a client (an FA from a wire house firm based in Florida) called me late last year and said our Report helped him land a 25 Million dollar client!
But, while obviously not as monetarily impressive, we continue to get strong feedback that our report is: Providing value, Helping our clients outperform markets, and Helping them build their business:
"Thanks for your continued insight; it has saved my clients over $2M USD this year… Keep up the great work!" – FA from a Wirehouse.
"Let me know if there is anything else that you need from us. Thanks again for everything. I really enjoy the Report – it is helping me grow my business and stay on top of things." –  Independent RIA.
"Great service from a great company!!" – FA from a Wirehouse.
"Great report. You've become invaluable to me, thanks for everything…!"  –  FA from a Broker Dealer
Subscriptions start at just $65 per month, billed quarterly, and with the option to cancel any time prior to the beginning of the next quarter, there's simply no reason why you shouldn't subscribe to The 7:00's Report right now.
Begin your subscription to The 7:00's Report right now by clicking this link and being redirected to our secure order form.
Finally, everything in business is a trade-off between capital and returns.
So, if you commit to an annual subscription, you get one month free, a savings of $65 dollars.  To sign up for an annual subscription, simply click here.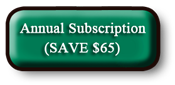 Best,
Tom
Tom Essaye,
Editor of The 7:00's Report